30 years ago, in 1986, one of the most terrible nuclear disasters happened, when the Chornobyl Nuclear Power Plant located near the booming town of Pripyat malfunctioned. Now, in 2016, a team of Ukrainian professionals aim to use the emerging VR technology to bring people into the 30 km Exclusive Zone. The project is called Chornobyl360, and it will be an interactive documentary movie for all major VR platforms, including Oculus Rift, Samsung Gear VR, and Google Cardboard.
The project, started by Kirill Pokutnyy, was successfully funded via Kickstarter, with 303 backers pledging €34,540 by May 30, 2016.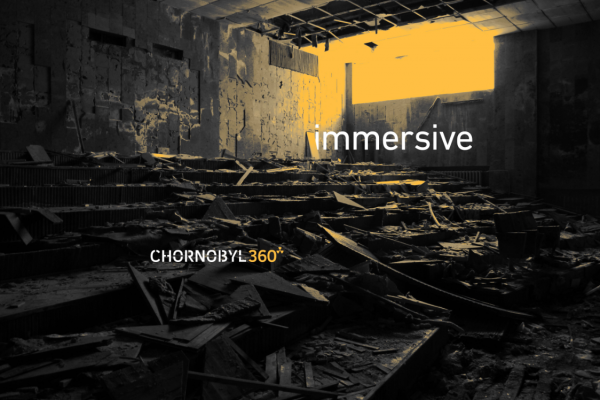 Kirill's aim with this interactive documentary is to raise public awareness about the dire consequences of human activity and the misuse of nuclear technology. There are more than 15 professionals working on this project, with most of them being cinematography and design experts. The three leaders of the projects are Kirill Pokutnyy (Author and producer), Alona Stulii (editor), and Evgeniy Vaschenko (sound designer).
The team plans to release episodes over time; they stated the aim is at least 10 interactive episodes, which would each be about 3 to 10 minutes long. Episodes will use non-linear narratives, where the viewer will be able to view the content either sequentially or in the order they prefer. Over time, the team plans to extend and expand the content as new technologies emerge and new discoveries about the Exclusive Zone are made. There is also the possibility of some content being exclusive to more advanced VR platforms like the Oculus, the HTC Vive or PlayStation VR.
The users will be able to see the past, present and possible future of the Zone by interacting with living witnesses, NPP workers, engineers, and locals who have returned to their small villages in the Zone following the years of the disaster. All of this is planned to be captured in immersive full 360° footage, enabling the viewer to look around each scene.
The movie is being filmed with the help of exciting new technologies, such as 360° drone footage, CGI videos and animation, surround 3D sound and interactive navigation through the scenes. The first episode, which will let users experience the Zone, the Power Plant and the construction area of "The Arch" that is going to cover the 4th block of the Chornobyl Nuclear Power Plant, will be released sometime in Autumn of 2016. Currently, a short preview is available on the Google Play store. For more information about the project and to subscribe to their newsletter, visit them here.