Description
Starbreeze has formed the Project StarVR, where InfinitEye's hardware expertise and capabilities are combined with Starbreeze game and entertainment software development skills. The project places Starbreeze in a unique position to develop VR experiences with an integrated vision. By committing to be a fully integrated party supporting the Steam OpenVR framework within its proprietary game and entertainment industry engine Valhalla, Starbreeze aspires to become one of the first VR publishers parallel to being the go-to catalyst for publishing titles on the Steam platform.
"Starbreeze's vision is to become a leader in the entertainment industry by delivering world class experiences. The landscape of entertainment is transforming and we strongly believe VR will be a big part of the story of our industry going forward. Our StarVR aims at bringing the next generation entertainment experiences to reality", said Bo Andersson Klint, CEO of Starbreeze. "By immersing ourselves into the VR field, we aim to learn fast, position Starbreeze for the future and allow people to enter into new worlds."
NATURAL PANORAMIC FIELD OF VIEW
The StarVR headset is the truly immersive VR Headset with its unique 210° horizontal field of view, covering more than 75% of the entire human vision.
Experiencing VR has never been so natural, beyond 180° the user can start feeling the scene around him, at 210° the immersion is total.
The user can move his eyes in any directions he will always be surrounded by the virtual world. No sensation of wearing blinders anymore.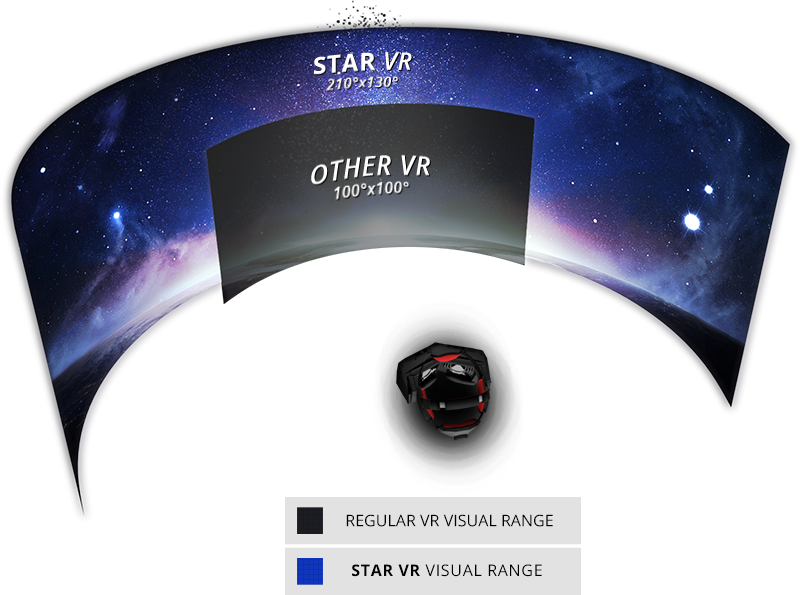 UNCOMPROMISING OPTICAL DESIGN
The StarVR Fresnel optical design is a major step forward for VR with not only a 210° horizontal field of view but also 130° of vertical field of view and 100° of binocular overlap.

STARVR FOV
The optical surface of the lenses have been optimized to deliver a great image quality all over the visible area, from the foveal vision to the extreme peripheral vision.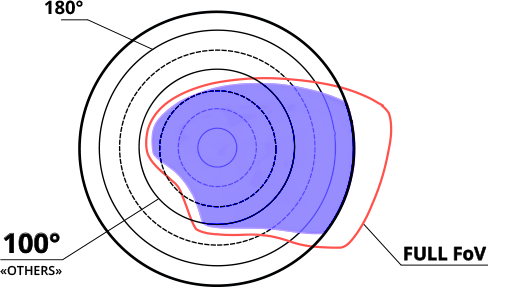 DUAL DISPLAY ARCHITECTURE
The Dual 5.5" Quad HD panel architecture, one per eye, provides a realistic visual experience with a total panoramic definition of 5120x1440 pixels resulting in high detailed scenes and no screen door effect.
With its arrow angled displays, the StarVR headset maximizes the lenses performance and reduces the form factor.
POSITION TRACKING
Complete orientation and position tracking combining gyroscopes, accelerometers and magnetometers real-time data with an optical tracking system.
The fiducial markers system allows a 360° submillimeter position tracking of both the headset and peripheral devices in the virtual world.
Additional objects can easily be tracked by attaching markers to them.
REALISTIC IMAGE QUALITY
Dual 5.5" Quad HD Displays
2560x1440 pixels per eye
5K total Panoramic definition
UNIQUE 210° WIDE FIELD OF VIEW
Custom Fresnel-based Optics
Crystal-clear image across the entire field of view
210-degree Horizontal FOV
130-degree Vertical FOV
POSITION TRACKING
Real-time 6 Degrees of Freedom
360° Submillimeter Optical Tracking
IMU and Optical sensor fusion for a low-latency experience