Gaming laptops have a bit of a bad reputation, and it's fair to say that it's one they've earned. Think of a gaming laptop and your mind probably conjures up some heavyweight beast of a machine, a hulking monstrosity that makes a noise like an asthmatic jet engine and generates enough heat to keep your home all warm and toasty throughout the winter. It might just about qualify as portable, but it still falls short of a half-decent desktop PC, so why bother?
Thankfully the latest line in gaming laptops from NVIDIA is here to smash your assumptions. Powered by GeForce GTX 10 Series graphics cards, these sleek and powerful rigs use the latest technology and cutting-edge design to add a whole new dimension to your laptop gaming experience.
They're so good they might even supplant your desktop rig as your preferred gaming platform. Don't believe us? Here are nine solid reasons why playing on NVIDIA's ultimate gaming laptops is the way ahead.
All the power you need
We all know that if you want a portable gaming device then you need to sacrifice a little power, right? That's not the case with these babies; packing GeForce GTX 10 Series GPUs, powered by NVIDIA Pascal technology, they deliver almost double the performance of previous-generation Maxwell technology, giving you amazing speed and power efficiency that'll rival your desktop rig.
Take your games with you
If your PC's your main gaming machine, that means you're restricted to playing your games wherever it is in your home. With a decent gaming laptop you can take your games wherever you go, so even if you're on the bus or the train you can get some practice in and work on your skills, and if you're away from home on a work trip you can still enjoy some multiplayer action from your hotel room.
Super slim and light
The days of gaming laptops that look like a Batmobile crushed into an oblong and spray-painted a garish color – and weigh about the same – are a thing of the past. NVIDIA's gaming laptops use aerospace-inspired Max-Q design to provide ultimate gaming performance in a form factor as thin as 18mm, which won't break your back when you're carrying it. Everything – chips, drivers, thermal and electrical components, and the laptop body itself – is engineered to squeeze the most power into the smallest space
Ready for anything
With all that GeForce power under the hood you don't need to worry too much about setting up the latest games so that they'll perform well, but NVIDIA's gaming laptops make it even easier to get the best out of those AAA titles. They come with GeForce Experience, which makes it simple to set things up for maximum performance – you can even tell it whether to focus more on visual quality or raw frame rate. And to further ease things, NVIDIA's game-ready drivers will ensure your rig's ready to run the latest titles as soon as they go on sale.
Enjoy VR anywhere
Not only can you enjoy the latest games wherever you want with an NVIDIA gaming laptop, you can also experience top-quality VR as well. All of the laptops from the GeForce GTX 1060 upwards are VR ready, using NVIDIA VRWorks technologies to provide next-generation VR performance with the lowest latency and plug-and-play compatibility with the leading headsets.
Keep on going for hours
With all this power at your fingertips you'd doubtless expect these laptops to eat through a battery charge at a rate of knots, so they'd need to be constantly plugged into the nearest outlet. But again, there's NVIDIA technology to the rescue: BatteryBoost tech delivers extended battery life and performance, enabling you to game on the go without a charger, and without worrying about losing power right in the middle of a game.
Super-smooth visuals
Not only do NVIDIA's gaming laptops provide you with raw power, they're also crammed with technology to turn that power into the best visual quality possible. If you demand 4K resolutions and HDR, then these machines won't disappoint you; they also use NVIDIA G-SYNC technology to synchronize the display refresh rates to your GPU, eliminating screen tearing and minimizing display stutter and input lag, resulting in a super smooth gaming experience.
No need for earplugs
There's no escaping the fact that laptops generate heat, and to stop them burning out they need fans to cool them down, and so you expect a powerful gaming laptop to make a lot of noise. However, NVIDIA WhisperMode – available on GTX 1060 models upwards – intelligently paces frame rates and game settings to reduce the amount of heat that the laptop needs to dissipate, resulting in lower fan speeds and less noise. It's more pleasant for you, and for anyone else in earshot.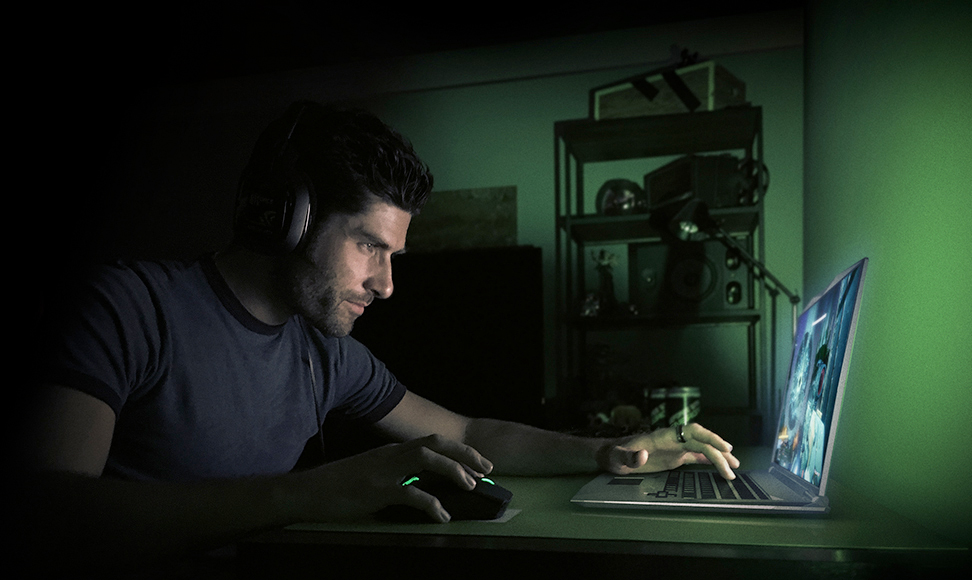 Share your victories
So, you've upgraded to an NVIDIA gaming laptop and you've installed all your favorite games; now's the ideal opportunity to show off your skills, and you'll find all the tools you need already installed. With NVIDIA ShadowPlay it's easy to record and share your greatest gaming moments, whether it's grabbing some gameplay footage, snapping some screenshots or broadcasting your session online. And with NVIDIA Ansel you can make your in-game shots look absolutely amazing; it's a revolutionary new way to capture shots, view them in 360 degrees and edit them with cool post-process filters.
Convinced that an NVIDIA gaming laptop is the perfect way to enjoy all your games, wherever you are? They're available right now from leading retailers.